This research is supported by you, our readers, through our independently chosen links, which earn us a commission. Learn More.
---
Do you remember the last time you put your feet up to relax?
Think about how it felt to sit back and rest your feet on an ottoman, footrest, stool, or whatever is there to put your feet on.
Ergonomic footrests provide the best solution for putting your feet up to relax your tired, aching feet, but they are also beneficial for your back and posture.
Usually, you might consider sitting in a recliner with your feet up at the end of a workday.
Best Ergonomic Footrests for Home & Office
However, there is a multitude of reviews of footrests and many options online. We've done the hard work for you, so you can relax with one of these top ergonomic footrests.

Our top pick for footrests is the Humanscale FM 300 Foot Machine Footrest. Not only is this footrest highly rated by users, it offers high-quality construction and features.
Features
Steel Frame
Solid Hardwood Foot Platform
Non-Skid Surface
Adjustable height range between 3.75" to 6.75"
Ideally sized at 11.875" deep by 16" wide
Takeaway
The steel frame provides solid, stable support, while the non-skid surface ensures that your feet will not slide off. The adjustable height feature allows you to make the appropriate adjustments, so you can relieve pressure on your lower back and relax your legs and feet.
The Humanscale FM 300 Foot Machine Footrest also allows you to rock/move your feet, which improves your blood circulation when you're sitting.
Humanscale offers a lifetime manufacturer's warranty.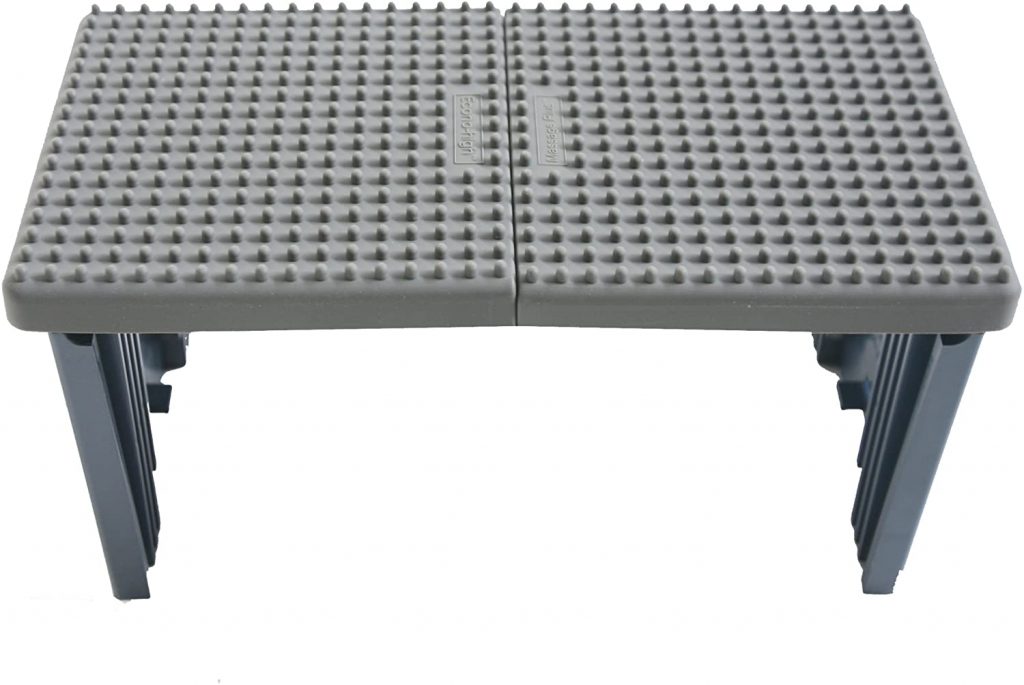 The Econo High Portable Footrest offers a solid and functional design and is made from quality materials.
Features
Capable of holding up to 100 pounds
Lightweight, compact, and portable
Constructed of 100% high gloss ABS plastic
Made in the USA
Helps to improve posture and circulation
Innovative sliding panels for more foot space, which can be retracted and locked into place for storage or locked in place when they are slid out and in use
Takeaway
Keep in mind, this is a footrest and not a footstool. It is sturdy and well-constructed but is not intended to be used as a standing stool.
Prolonged sitting takes its toll on your body. This top ergonomic footrest for back pain is innovative, portable, and has foldable legs.
Some users reported it to be a bit heavier than expected, even though it's considered lightweight and portable.
Many users with trouble reaching the floor when sitting find the Econo High Portable Footrest to be ideal for avoiding posture problems.
Number three on our list of top ergonomic footrests for back pain is the Kantek FR600 Professional Adjustable Footrest. It offers several functional benefits and is a high-quality footrest.
Features
Ergonomically designed for enhanced comfort that aids with relieving muscle fatigue and strain
Four height positions – easy to adjust
Easy-glide, adjustable foot platform that offers adjustable tilt angles and allows you to rock your feet
Adjustments can be made quietly and smoothly
Large foot platform with surface bumps that can be used to massage tired feet
Takeaway
The features of the Kantek FR600 Professional Adjustable Footrest allow for comfort, correct posture, and correct positioning of your feet.
A favorite user feature of this footrest is the massaging bumps. Some users claim the tilting motion is somewhat noisy.
Avoiding foot and back fatigue at work helps you be more productive while you prevent aches and pains.
If you like your Smartphone for its 'smart' features, this Kensington Soulmate Plus Adjustable Footrest for back pain uses SmartFit technology for optimal comfort.
Features
Sturdy, durable construction
Stress-reducing ergonomic positioning
Easy foot pedal adjustment
Angle adjustment up to 30 degrees
SmartFit system for adjusting the tilt and height of the foot rest
Textured anti-slip platform
Height adjustments from 3.5" to 5"
Memory foam padding
Takeaway
The Kensington Soulmate Plus Adjustable Footrest is, overall a high-quality, solidly constructed ergonomic footrest for back pain that offers optimal relief from sitting at work.
This foot rest eliminates pressure and tension at work when you need it the most.
Not everyone sits all day at a desk. Some people stand for hours at a desk or station when they work. Therefore, this Ergodriven Topo Anti-Fatigue Mat has its place in the workplace for relieving foot, neck, and back pain and strain.
Features
Offers next-generation features
Stand comfortably and be active surface
Drives subconscious movement on the cushioned surface
Allows you to switch between standing and sitting
7-year warranty
Fatigue-relieving
Takeaway
The Ergodriven Topo Anti-Fatigue Mat is best suited to people who stand a lot when they work. While it can be moved to accommodate most sitting positions, not everyone can benefit from that feature if they require more height.
Overall, this is a functional and high-quality anti-fatigue mat ideal for those who stand to work or for those who still wash dishes in their sink.
Hammocks are often associated with the beach or the outdoors, but what about using one for your feet when you work? SMAGREHO has a highly portable, mini office foot hammock you can use as your foot rest at work.
Features
Designed for resting your feet
Easy to fold and carry
Hooks on either side of a desk with clips
Made from high-quality canvas, polyethylene, wood, and steel
Lightweight, portable, and Eco-friendly for use indoors or outdoors
Size: 25.5 inches x 155 mm x 6.1 inches
Weight: 12 ounces
Takeaway
The SMAGREHO Portable Mini Office Foot Hammock footrest is suitable for anyone who wants an inexpensive, but highly functional footrest for the office.
Some users recommended that you install brackets to hang it on to avoid rope slippage and problems with it fitting your desk. It may be designed for any average desk, but not all desks are alike.
It's a good solution for anyone who travels for work and packs lightly.
If you prefer a footrest that is comfortable, economical, and functional with or without your shoes on, the Rest My Sole Foot Cushion Footrest is a suitable option.
Features
Not too tall, too soft, or not sturdy enough
Soft, comfy padding
Easy to remove and machine washable cover
Anti-slip tread on its bottom to keep it in place
Cover zipper isn't placed where it can damage the floor
Ergo foot pad to promote circulation and active sitting
Weight: 12 ounces
Portable
When the curved side is down, it can be used to rock your feet back and forth
Takeaway
The Rest My Sole Foot Cushion Footrest affordable, comfortable, and offers many simple features that some high-tech foot rests offer.
You don't have to worry about getting it a little dirty sometimes because the cover is removable and machine washable. You can use it at home, at work, or when you travel because it's lightweight and portable.
The Webble Ergonomic Office Footrest is an innovative design with a patented mesh membrane and spring suspension.
Features
Size: 19.5 x 11.2 x 4.6 inches
Weight: 4.5 pounds
The Webble uses Caster wheels for promoting active foot movement
Ergonomic design made for activity that promotes blood circulation, flexibility, and reduces fatigue and stress on your joints and muscles
Flexes your thighs and hips with side-to-side motion and your calves and knees using the backward and forward motions
Contoured foot platform with breathable DuPont Hytrel mesh allows your feet to float and gives you an angle at which you can massage your arch
Takeaway
The Webble Ergonomic Office Footrest has been described as a theme park for your feet by some users because it's fun for people who can't keep their feet still when sitting.
Benefits of Using a Footrest at Home or in the Office
Here is some important information about the benefits of using a footrest.
Pressure relief for the lower back
Promotes leg and foot movement, which improves your circulation (Rocking footrests are perfect for this)
Encourages correct posture by maintaining the proper leg level and preventing your body from leaning forward
Keeps your hips just a bit higher than your knees
Ideal for when your feet don't reach the floor
Your posture is vital to your neck and back health whether you're standing, sitting, walking, or lying down. Improper posture leads to back strain, muscle cramps, and back pain.
The position of your feet plays a role in improving your posture, therefore alleviating stress and tension on your neck and back, which results in less neck and back pain.
To maintain your natural posture, your feet need to be positioned flat on the ground when standing or sitting. Of course, there are a number of great chairs out there that maintain your back's comfort, but a lot of them forget about your feet.
Short people who can't touch their feet to the ground might encounter health issues down the road. Blood that is unable to circulate in their lower legs can lead to swelling and varicose veins, muscle atrophy, and even deep vein thrombosis over a long period of time.
On the flip side of this, people that have to strain to touch their feet to the floor can experience strain and stress on ligaments, and tendons, and muscles in their legs, which can cause things like nerve pain. Taller people who can reach the floor's surface can experience muscle atrophy and varicose veins if their feet remain in the same position for a long time.
As a result, ergonomic footrests support healthier feet in both short and tall people, thanks to a combination of massage, better support, and activity where your feet can be moving back and forth while you're sitting down.
Changing your foot's position can be beneficial for maintaining the tone of your muscles and can encourage blood flow. It can also help prevent abnormal posture that might cause foot pain. Lastly, footrests are particularly beneficial for those who have had medical procedures done on their legs.
For example, if you have had a hip replacement or any surgery, then you are going to greatly benefit from the additional support provided by a footrest.
What to Look for in an Ergonomic Footrest
Now that we have talked about the importance of having a good footrest, what exactly makes a good one? Believe it or not, there are a number of different factors that contribute to this, which we will talk about below.
1. Ergonomic Design
When your footrest is ergonomically designed, it incorporates features that help your feet conform to the footrest without it being uncomfortable. This means that the surface will be textured with either ribbed or dotted patterns that can massage your feet and keep them comfortable. These can also help to encourage blood circulation in your lower limbs.
Generally speaking, having a footrest that comes with a positive tilt is better for your feet than a flat surface. Another important factor is being able to rock the footrest back and forth, as this allows your feet and legs to keep moving even when you're sitting down, so that your blood can keep circulating.
2. Adjusting the Height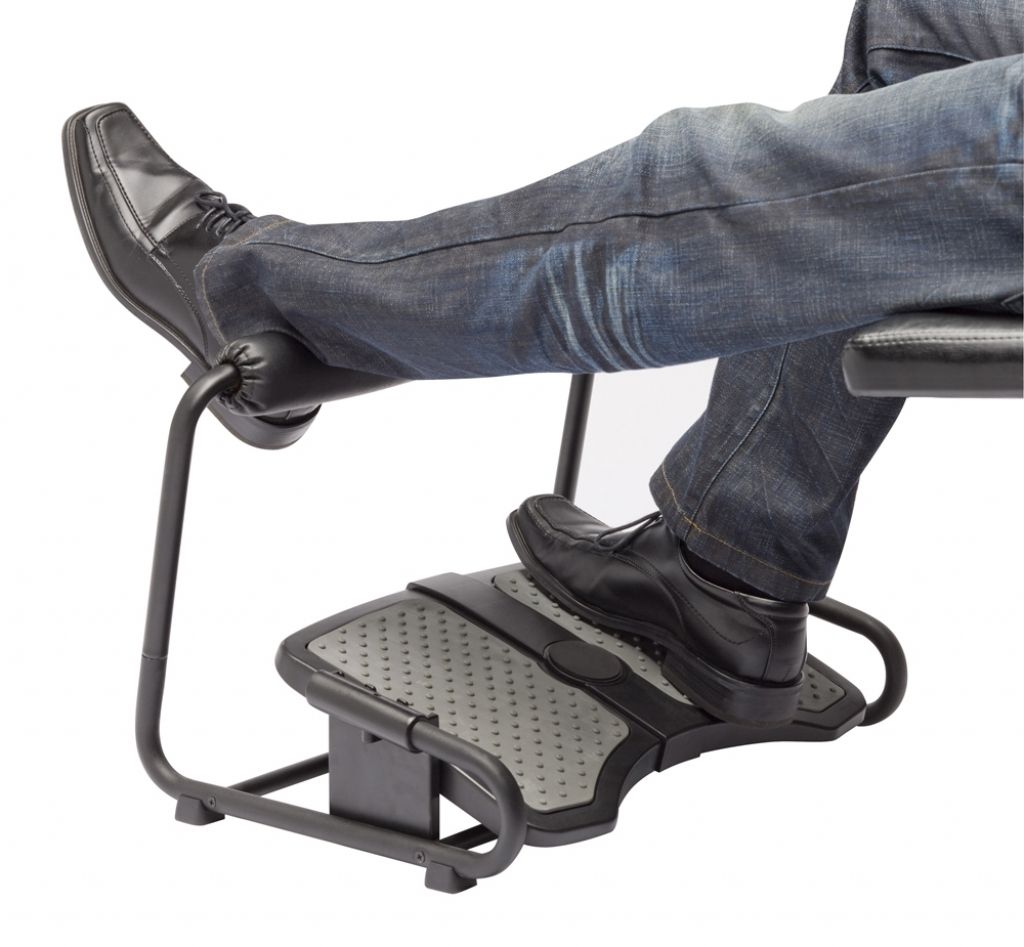 If you aren't tall, then you will need to find a footrest that is tall enough to reach your feet. Of course, you can prop a footrest up with books or magazines, but it's better to just find one that suits your height from the beginning. The best footrests out there can be adjusted based on height, especially if you plan on using it with a number of different chairs.
3. Robustness
The footrests' main function is to bring the ground to the user. As a result, the footrest needs to be just as sturdy as the ground. Of course, robustness is going to depend on the material that it's made from, as well as design. Footrests can be made from wood, steel, or plastic, and they can come with either large or triangular bases, or thick frames that increase the contact area with the ground.
Regardless of the material that they are made from, they should be able to be used every day for a long time without breaking. Your footrest should also be able to maintain its position on the floor without slipping or moving. Rubber or silicone surfaces on the bottom of the footrest can help to keep it in place, even when you are putting your full weight on it.
4. High Quality Material
Whether it is wood, plastic, or steel, using low-quality material can make your footrest experience an uncomfortable and temporary one, even if the design is great. Of course, material quality and design are linked, which means that you really want the best of both worlds.
5. Versatility
Of course, ergonomics is the most important aspect of having a footrest, but there are other features that can come with particular styles and designs based on your lifestyle. For example, if you are someone who moves around a lot and wants to be able to take a footrest with you, you will need to find one that is portable and versatile.
For it to be easily movable, it needs to be lightweight, so that you can take it with you onto an airplane, or in the car. Being versatile is also an important feature, which includes being able to switch modes between rocking and non-rocking, and being able to attach it to specific chairs, like a plane seat.
Final Thoughts
When shopping for an ergonomic footrest for back pain, here are some helpful tips to consider.
Surface area size and texture (i.e. non-skid)
Adjustability (angle and height)
Weight capacity
Heating or cooling features if necessary
Portability (2 pounds or less)
Brand reputation
Rocker or massage balls or surface features
Pedals or foot lever control
Most importantly, protect your neck, back, and feet from work-related fatigue by choosing the proper top ergonomic footrest for back pain.
The following two tabs change content below.
Thank you for your interest in Geek Health Journal. My name is Anne. Feel free to comment on any article and I will help if I can.
Latest posts by Anne Keiley (see all)