This research is supported by you, our readers, through our independently chosen links, which earn us a commission. Learn More.
---
| Rank | Massage Mat | Model Name | |
| --- | --- | --- | --- |
| 1 | | The Relaxzen Massage Plush Mat | Check price |
| 2 | | The Belmint Full Body Massager | Check price |
| 3 | | The Soozier Heated Vibration Massage | Check price |
What could be nicer and more relaxing than a massage?
Massage is an amazing therapy that reduces pain, induces relaxation, and takes your stress levels down a few notches. However, not all of us have the funds to run out and get a massage every time we need one.
What can you do in place of a massage to improve your blood flow, reduce stress, and alleviate your aches and pains?
A full body massage mat with heat and vibrating action is an affordable way to enjoy the benefits of an on-demand full-body massage in the comfort of your home.
Best Full Body Massage Mats with Heat
The good news is that we have done the research for you, so you can make a wise choice in the best massage mat for heat just for you.
We have found three high-quality, durable, and affordable vibrating massage mats with heat for you to consider.
This full body massage mat with heat is under $60 and comes with heat and 10-motor massage to cover your body from your neck to your calves and provides heat for the lumbar (lower back) region of your spine.
This massage mat is firm, comfortable, and is suitable for use on the floor, recliner, or your sofa. It's pliable, lightweight, and foldable to easily conform to almost anywhere you want to use it. The cover is also comfortable and provides that little extra bit of foam for softness.
The user-friendly LED remote control panel allows you to select where you want the massage. There are four zones from which to choose, so you can choose the full-body treatment or focus on an area that needs it the most. You can also adjust the intensity level from one to three, depending on what you need to achieve relaxation.
The auto shut-off timer allows you to enjoy worry-free massage and heat for 15, 30, or 60 minutes.
Size – 22.4 x 66.9 x 1.4 inches
Weight – 5 pounds
Auto timer – 15/30/60 minutes
Control zones – 4
Intensity levels – 3
Preprogrammed massage modes – 5
Massage motors – 10
Bonus Tip 1: If you want a little extra pain-relief boost, we recommend Amazon's choice Thermachill roll-on natural pain relief. You can apply this to areas that hurt the most to further enjoy pain relief along with your massage mat.
Bonus Tip 2: If you like a removable cover to wash, one of the Relaxzen massage mats offers that option as well for under $70. This is recommended if you choose a light color.
The Belmint full body massage mat is similar to the Relaxzen mat, except it weighs a bit more (5 pounds instead of 4.5 pounds) and it offers fewer shut-off options. In fact, they are so similar we think they might be manufactured in the same factory.
Nevertheless, here's the scoop on the Belmint massage and heat mat.
It offers 10 massage motors, a heat option only in the lumbar region, and the same basic massage zones, intensity settings, and massage modes for targeting specific areas.
It is also foldable for storage and pliable and lightweight enough to use on the floor, a recliner, or the sofa. Notice the aspects of the mat are similar to the Relaxzen.
Size – 5.5 feet long x 1.9 feet wide
Weight – 5 pounds
Auto timer – 30 minutes
Control zones – 4
Massage motors – 10
Intensity levels – 3
Preprogrammed massage modes – 5
Maximum heat settings – 140F
This Soozier 10-motor massage mat with heat provides a stronger massage (on the high-intensity setting) than either the Relaxzen or Belmint mats. The Soozier features 24 back magnets and 10 rejuvenating massage heads to aid in the distribution of full-body pain relief and to alleviate tightness and soreness in the muscles.
Besides vibrating massage, the Soozier offers pulsing massage. It doesn't have the function to select a specific region of the back for heat or massage. It is only used in full-body mode.
It is lightweight and foldable for easy storage and can also be used on the floor, a sofa, a recliner, or other surfaces like the Belmint and Relaxzen mats.
Notice the slight differences between this full-body massage and heat mat and the Belmint and Relaxzen models. The biggest is the lack of control zones. Consequently, it makes up for that with the range of massage style settings like rolling massage, pulse, and vibration.
Size – 65.5 x 23 x 2 inches
Weight – 5.5 pounds
Auto timer – 10 or 30 minutes
Control zones – 1 – full-body only
Massage motors – 10
Intensity levels – 2 (weak and strong)
Preprogrammed massage modes – 8
Maximum heat settings – 120F
Our Top Pick is…
The Relaxzen electric full body massage mat with heat gets our recommendation for the best of the three mats from these reviews.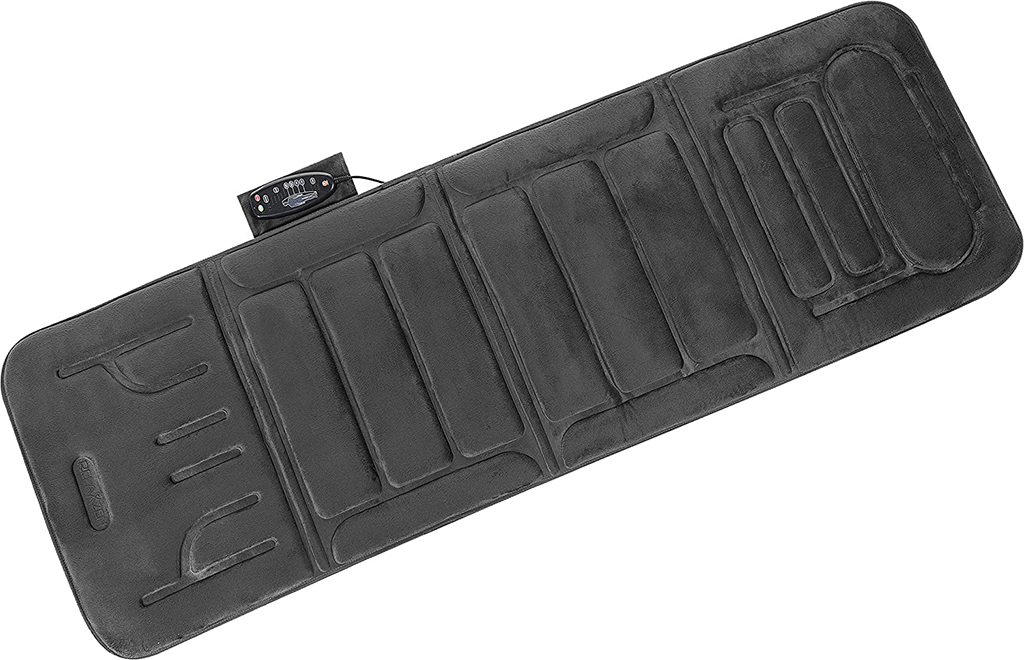 Why? Because this mat is well-made, comfortable, adjustable, and is suitable for any kind of surface. Additionally, this company is well-known for its superior customer service and support.
The reason the Soozier didn't make it as our top recommendation is that it doesn't have the feature for choosing specific areas to massage. But, we did like it for its range of massage styles and the 24 back magnets.
These three massage mats with heat are designed to cover the whole body (unless you are very tall) and effectively provide relief from muscle and nerve pain, cramps, joint pain, and will reduce your stress levels.
Do Massage Mats With Heat Offer Benefits?
Of course, this is a common question among consumers, and the good news is that they do offer benefits. Massage mats with heat can help soothe tired, sore back muscles with the heart function, and they can also help loosen muscle tightness and tension with the vibration massage.
They offer enough heat to improve your blood circulation and the vibration works to ease out the stresses of the day. As well as increased relaxation and blood flow, massage mats can help restore muscle flexibility by correcting your poor posture and stretching muscles out.
However, not every massage mat with heat is going to offer you the results you want. As a result, we've included a little buying guide at the end here to help you with your purchase.
Things to Consider When Buying a Massage Mat With Heat
Depending on the manufacturer, your massage mat will be called a pad, mattress, massage mattress, or mat. You can use it on the floor, your couch, or on the bed. We suggest that you use it on the floor. If your floor surface is even, you can place your massage mat on it and comfortably lie down.
Some massage therapists will place a massage mat on their table because it helps patients to relax easily with the heating option.
Let's take a look at a few things to consider when buying massage mats with heat.
1. Material
When buying massage mats with heat, of course you are doing it for body relaxation and relief. This means that you don't need to purchase one that is going to increase pain or introduce negative side effects. This is why it's important to choose a mat that is made from high-quality materials.
You also need to make sure that it is breathable. This is why we recommend that you go for nontoxic plastic when considering the types of spikes.
2. Adhesives Used in Manufacturing
Remember, the main purpose of a massage mat is to improve your health. This is why it's important to buy one that is high-quality. Make sure that the manufacturer doesn't use any kind of toxic glue to construct the mat.
3. Supportive Material
Most massage mats in the market are made from polyurethane foam as the main cushioning material. However, some use nontoxic rubber, or another organic fiber. This is why it's important to think about what you want out of a massage mat when purchasing one, as the material is going to determine the level of relaxation that you need.
4. Warranty Information
Every manufacturer will provide a different warranty, and you need to read over this before you make your purchase. Of course, you need to determine that the product is of good quality, and the higher the quality, the longer the warranty.
We think that any warranty that exceeds one year is good, and because money-back guarantees are related to warranties, you definitely don't want to overlook them.
What are the Benefits of Using a Massage Mat With Heat?
Massage can offer many different benefits including pain relief, relaxation, and stress relief.
However, massage mats with heat provide even more benefits, which we will talk about below.
1. Help Decompress After a Long Day
Using a massage mat for half an hour at the end of a long day of stress or work can relax your entire body, and help you sleep better. Relaxing your body is going to reduce body hormones and harmful stress levels, which is not only going to be able to help your body recover faster but sleep better overall.
2. Increased Blood Circulation
The heat in a massage mat increases blood flow in the body. As you might already be aware, increased blood circulation can help loosen up your body muscles, and keep you relaxed. It is also going to reduce soreness in your muscles, and even heal microtears.
3. Restore Lymph Flow
Enough pressure on various acupoints of your body is going to help restore lymph flow and blood flow. Lymph drainage is when flushing the lymph fluid out of your body can get rid of any harmful toxins that are stored, which is going to keep you healthier, and maintain energy levels.
4. Gets Rid of Tightness, Muscle Soreness, and Adhesion
The vibrations of the massage mat, along with the heat, offers relief to muscle soreness in the body, as well as breaking down tightness and adhesions in your thighs, hips, back, and shoulders. Using your mat at the end of each day is going to also prevent a buildup of stress and injuries.
It is important to remember at this point that you can only use a massage mat for your back area. We don't recommend that you use it on the front of your body, or the sides.
Most models like the ones that we have recommended above come with preset timers and auto shutoff timers, which will implement themselves after a certain period of time. This means that you don't have to worry about falling asleep during a massage session.
Are Massage Mats With Heat the Same as Yoga Mats?
Definitely not.
Yoga mats don't come with nontoxic plastic spikes on the surface, and they don't come with a pillow. Nontoxic plastic spikes that you find on the services of acupressure massage mats work like acupressure needles whenever you lie down on the mat for a massage session.
This means that they invoke naturally occurring endorphins when they come into contact with your tissues and muscles. Acupressure can clear out any blockages that you might have developed in the energy points of your body.
Don't forget that massage mats with heat are completely safe to use. Again, most models come with a preset or auto shutoff function that means you don't have to worry about falling asleep on the mat or losing track of time.
How Do Massage Mats With Heat Relieve Pain?
Massage mats with heat use vibration massage with massage motors to rotate and vibrate over your aching and stiff muscles to bring relief to discomfort.
Some mats include magnets, as well as a soothing heat feature that can amplify this effect.
Final Thoughts
Choosing a full body massage mat with heat is a personal choice, so each person will have their own preferences in features and construction.
Our recommendation is based on customer reviews and research about the companies.
That being said, every brand we reviewed here is a reputable brand and provides high-quality massage mats with heat.
The following two tabs change content below.
Thank you for your interest in Geek Health Journal. My name is Anne. Feel free to comment on any article and I will help if I can.
Latest posts by Anne Keiley (see all)