If you are someone who is familiar with dealing with any number of body aches, then you will know that there is nothing more frustrating or debilitating to your day-to-day routine than suffering from back pain.
However, what can be done about it?
Back pain is typically caused by bad posture or working for an extended period of time in a position that is either awkward or is going to strain certain parts of your body. The good news is that there are ways that you can reduce back pain.
However, the bad news is that the majority of these methods aren't sustainable. For example, getting a massage every week is going to cost you approximately $75 an hour.
If you want to try and manage it with prescribed pain medication, this is going to have a long-term negative effect on your kidneys.
So, what are you left with? You are left with massage chairs. Let's check out what we think are the best massage chairs for back pain in the industry right now so that you can make the most of a sustainable way to manage your back pain.
This is definitely the preferred method and is a great long-term investment.
Best Massage Chairs for Back Pain
If you love the Kahuna brand, but you don't think you've got the budget for it, there are some models available that aren't going to necessarily break the bank.
The Kahuna Zero Gravity Recliner comes with all the necessary features without the steep price tag.
With six automated pre-set programs and a timer button that allows up to thirty minutes, this massage chair for back pain is designed for budget and comfort.
In fact, the quality and price of this chair is so popular that we consider it to be top of the list when it comes to affordable massage chair options. As well as having an L-track system, it also comes with three different stages of zero gravity.
This Kahuna massage chair is also built with body scanning technology, so if you're not happy with one of the six pre-programmed sessions, you can customize it to suit your needs. One thing we love about the pre-set programs is that they have been set with yoga stretches in mind, so if you're someone who is a fan of Pilates or yoga, then you're going to like this massage chair.
With foot rollers and a detachable foot roller area, the Kahuna Zero Gravity massage chair for back pain is designed with practicality in mind.
Firstly, let me apologize. This chair isn't under $1000. It's more. But let me tell you, that if you're looking to get a good massage chair for back pain under $1000 then you'll be searching the internet for a very long time. This chair is the closest you're going to find to that budget.
Continuing our budget-friendly range of massage chairs for back pain, let's take a look at the Real Relax massage chair. This model may be one of the most affordable on our list, and it makes it that much more worth it when you realize just how many features it comes with.
The Real Relax Robots Hands features 3D robotic hands that run on an SL-track to move from your hip area to your neck area. This feature is ergonomically designed so that you get the full experience of a massage without being uncomfortable.
If you want to recline the Real Relax massage chair, simply press the button, and the chair will do the rest. This design is made with convenience and practicality in mind so that you have to do the bare minimum during your massage session.
Just like the rest of the chairs on our list, this one can detect the weight and height of your body through its body scan, and ultimately create a custom-made program for your needs.
One of the best parts of this massage chair is that it comes already assembled, so all you have to do is find the space for it.
Looking for zero gravity massage in a chair but not wanting to spend too much? The Infinity massage chair for back paingives you the luxury you want without too much of a price tag, especially when you compare it to other models on this list.
While there are other models by Infinity that comes with the 3D rollers, this model only features 2D ones – however, the difference is minimal so this shouldn't affect your overall experience too much.
With body scanning technology and heat features for both your hand and neck, the Infinity massage chair also comes with foot rollers, along with a number of other features. Ultimately, this is the type of chair that's ideal if you're looking for as many features as possible without having to pay too much for it.
While you may experience a higher quality massage with more expensive models like the iRobotic, which we'll talk about soon, the Infinity massage chair is more than enough for most people.
The fourth massage chair on our list is the Novo Human Touch Zero Gravity. Not only is this a great massage chair recliner, but it's also good on space so if you're worried about how much room it's going to take up this could be a viable option.
In fact, the recliner is so efficient on space that you can position it just a few inches from the wall, and it can still be extended completely.
As you can see, the biggest feature that this massage chair has to offer is space efficiency, so if you live in an apartment and don't want to opt for something that's bulky, this is a great choice.
We will say that the Novo Human Touch does lack a few features that other massage chairs for back pain on our list have, like the heating facility that doesn't reach all areas of the body.
However, it does come with shoulder and neck features that are completely adjustable. It also includes separate adjustable features for your feet and back, too. Along with a full-body stretch, this chair offers zero-gravity massages as a feature, too.
There's a reason that the iRobotics Zero Gravity makes it on our list. Not only does it come with all the necessary features, but it's also one of the quietest massage chairs for back pain that we tried.
If you're someone who has to sit in the same position all day for work, this massage chair is going to give you relief with a number of different intensity levels that are easily adjustable.
The molds of the chair contour closely with your frame so that you experience a high-quality massage. One of the best features that this chair has to offer is that it can hold up to 300 pounds of weight and a height of 6 feet 7 inches.
It has been approved by the FDA and has one of the longest warranties in the industry, with three years on labor and five years on parts. This advanced technology chair gives you a massage from your feet to your neck.
You may want to check out the Inada Dreamwave. This massage chair is top of its class and comes with all the necessary features, making it an awesome addition to any home that can benefit from a regular full body massage.
Body scanning technology makes it easy to locate the areas you want worked on so that each person is going to have a different massage experience. Heat therapy is available for your lumbar area and uses an inward motion to effectively reduce muscle soreness, as well as weakness or fatigue on your thighs and hips.
Air massage therapy places pressure on your calves, as well as the soles of your feet for a balanced, relaxed experience. With more than 1200 square inches of massage coverage, this is one of the most comprehensive massage chairs for back pain currently available, making it worth every cent.
The Inada Dreamwave is also an excellent choice for other family members too as it is adjustable for children who require a gentler massage experience. With over sixteen preprogrammed massage sessions, you're bound to find the right one for your needs.
The next massage chair on our list has both comfort and convenience in mind, and while it's not the cheapest option out there, it's certainly not the most expensive either.
The Osaki Zero Gravity Body not only comes with six pre-set programs, but it also displays these on a large LCD screen that includes a wireless remote. If you're looking for convenience as well as comfort in a massage chair, then this could be an option worth considering.
The air pressure massage feature works on your shoulders, hips, arms, feet, and calves for a well-rounded full body massage experience. The auto timer can be set from five up to thirty minutes, which is the recommended duration of a massage session.
As well as coming with six pre-set programs, the Osaki model also includes five different levels of intensity and speed as well as a lower back vibration feature.
As with the rest of the massage chairs for back pain on our list, the Osaki massage chair also includes the full body scan feature, allowing you to customize your massages based on personal preference. The S-track is ergonomic so that your spine stays in check while you enjoy your session.
The lower part of the chair features two heating pads for effective heat therapy in the lumbar region.
The Kahuna Air Float provides a quiet, peaceful massage. This is because the motor performs at a low level of disturbance so that you can experience a silent and gentle massage.
Whether you like strong and firm or gentle massages, the Kahuna Air Float Infrared Roller can help with your massage needs. We love this massage chair because of its innovative infrared heat rollers that help the heat travel through your muscles for an effective massage.
While you only need to position this chair three inches from the wall, it is slightly wider than other models so if you're concerned about how much space it's going to take up, this could be an issue.
The Kahuna Air Float massage chair can accommodate for up to 320 pounds; however, it can only accommodate for 6 feet 5 inches of height.
These more affordable options on our list prove that you don't have to pay through the roof for quality and features in a massage chair. In saying this, though, it's important to remember that not all massage chairs for back pain are built the same, so, unfortunately, this doesn't apply to all models in the lower price range.
The Relaxonchair Zero Gravity is designed to provide you with a full body massage. The detail of the massage itself is supposed to offer you a human-like experience that you will feel throughout your entire body. This massage chair also has spinal decompression in mind with its spinal decompression program.
Not only does this massage chair provide you with a relaxing session, but it will also stretch out your muscles, giving you the type of massage therapy your muscles need – especially if they're sore.
The rollers located in the back of the chair begin at the upper back and move all the way down into the bottom of the seat for an extensive session. The advanced body scanning technology means that the Relaxonchair knows precisely where to massage you so that it doesn't waste any time on parts of the body that don't need it.
The Panasonic Real Pro not only stands out for its features, but it also includes the ability to use body scan technology to determine your needs based on your weight and height. Once it has gathered this information with your first use, it will store it in its system so you won't have to calibrate it every time you use it.
While it doesn't come with as many pre-set programs as some of the other massage chairs for back pain on our list, it does feature five which is a reasonable number. From quick massage to just a stretch or even Swedish, there are a number of options to choose from which can be sufficient if you prefer to use a pre-set program.
As well as featuring these pre-set sessions, the Panasonic massage chair also comes with manual operations as well, and these include stretch and Swedish as well as knead grasp and regional roll.
This massage chair will automatically recline, and it lets you control the intensity of your session so you can make it as firm or as soft as you like.
Do I Need a Massage Chair?
If you're someone who spends a lot of time at the office in your desk chair, then there's a good chance that you're going to deal with joint and muscle pain.
While it may not be affecting you right now, it's the kind of issue that can slowly get worse over time. The more time you spend in the same position, the more likely you are to develop issues with your muscles and joints.
Unless you've got all the time and money in the world to get a regular massage from a licensed therapist, using a massage chair is a viable alternative that can effectively pay itself off over time.
Why Pay This Much for a Massage Chair?
On our comprehensive list of the best massage chairs, we have featured some that you can find at the higher end of the market, and some that fall in a much more affordable category. Whether money is no object or you want to stick within a budget, you may be wondering why you would spend this type of money on a massage chair.
If you think about it, the amount of time and money you could end up investing in getting regular massages from a massage therapist could potentially end up being more expensive than purchasing a massage chair.
While the initial upfront payment is a lot, once you've paid it that's it – yet you can continue using your massage chair for regular massage sessions for years to come, especially if it's a high-quality massage chair.
With the more expensive models, you can even experience deep tissue massages, as well as effective muscle stretches if your muscles are contracted or stiff. Zero gravity sessions and heat therapy can help with chronic pain and trouble sleeping, too.
A massage chair for back pain can help with muscle tension and increase your blood circulation.
What Are the Most Important Features to Think About When Buying a Massage Chair?
One of the most important things to remember when thinking about buying a massage chair for back pain is that just because it's got an expensive price tag, doesn't mean that it's the best.
It can take quite a while to find a chair that comes with all the best features and is set at the right price, which is why we've made our comprehensive list above. Let's elaborate on our reviews and take a look at the most essential features to think about when finding the perfect massage chair for back pain:
1. Heat Settings and Heat Therapy
Heating is one of the most important elements in order to benefit entirely from what they're supposed to do for you. This is because heat therapy is effective at helping to relax stiff or tensed-up muscles, an essential part of any massage.
However, the last thing you need in a massage chair is an overheating issue. It needs to be the right level of heat to be effective, but if it's too warm, it could end up doing more harm than good. While not every chair includes heat therapy as a feature, it is an important one if you're serious about your massage sessions and want to get the most out of them.
You may have noticed that some of the chairs on our list only provide heat therapy in the lumbar region. Again, this is definitely a compromise when compared to other massage chairs for back pain, but it's also better than nothing – especially if the lower back is your problem area.
2. Zero Gravity
This feature is perhaps the most popular out of all the elements in a massage chair. This is because it enables you to feel weightless while you receive your massage as if you're floating in space. It's certainly important if you're looking to feel completely relaxed while getting your massage.
Another reason why this is an important feature is that it allows for completely even bodyweight distribution. It also helps particularly with issues in the lower body, so if you've got muscle tension or stiffness in your legs, you may want to focus on this feature when looking for a massage chair for back pain.
3. Air Cell Count
The number of air cells in a massage chair is going to determine how much it inflates and deflates. This feature is going to affect different parts of the body and is great for compression treatment if you are looking for additional pressure to be applied.
This principle is based on blood pressure, and how increased blood circulation can encourage muscle performance and strength. The more air cells there are, the more force can be applied to muscle groups. If this is something that's important to you, then you may want to look out for it when considering which chair is best.
Some massage chairs for back pain come with two to three layers of air cells, giving you a higher amount of pressure where you need it. This feature can be controlled through the chair settings, making it practical and convenient when you're trying to customize your overall experience.
4. Body Scan Technology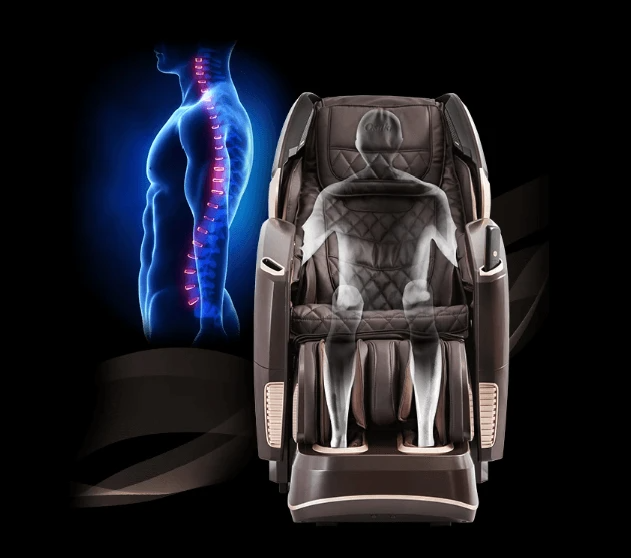 One of the biggest features to be found in a chair is body scanning technology. This is because this feature is responsible for pinpointing those problem areas of the body that need the most attention.
Body scan technology is going to be able to adjust the composition and build of your body based on how it sits in the chair so it can give you the best massage for the muscle tissues that you're experiencing.
If your massage chair doesn't have this feature, then it risks focusing on the wrong areas of your body, and could even end up causing more issues than you started with.
In addition to this feature, most massage chairs for back pain are designed to allow for your weight and height. This is so all of your limbs can fit correctly in order to receive the right massage.
If your massage chair has been manufactured in Japan, it may not have the correct settings for your weight and height if you're not Japanese.
5. Space and Size Efficiency
It doesn't matter where you plan on putting your massage chair in your house; one of the biggest factors you'll need to consider is how much space it's going to take up.
A lot of massage chairs for back pain can be quite bulky, while some have been designed to with space efficiency in mind.
If you have a limited area to work with, then we recommend considering a wall hanger that is manufactured for operating within a limited space. Additionally, these types of chairs can be pushed and positioned really close to the wall, so that they don't stick out.
If you live in a smaller apartment, these types of chairs are ideal. If you've got a bit more space, then you may want to look at a more standard model.
6. Noise Reduction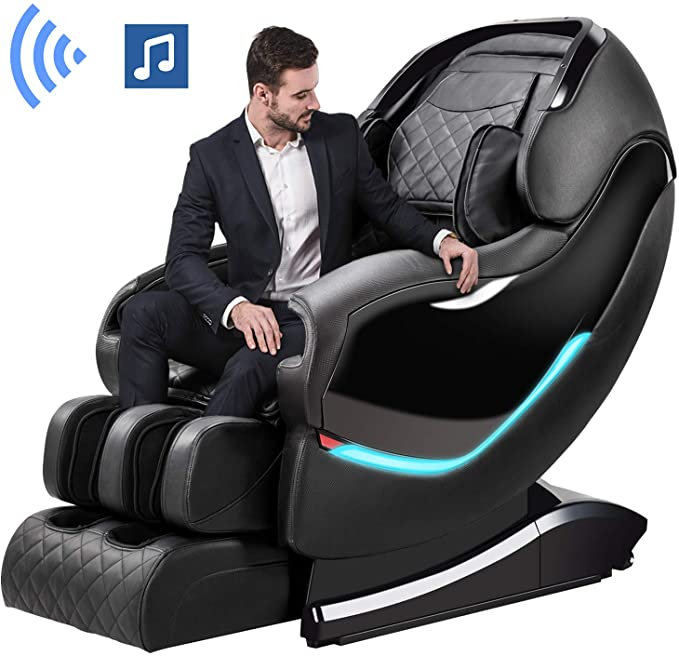 While the chair you're considering may come with all the necessary features, it could also end up being really noisy due to all those pumps and motors operating at the same time.
In recent years, many brands on the market have been upgrading and redesigning their massage chairs for optimal noise reduction. While some of them are still going to make a bit of noise, there is now a wide range out there that is going to operate with minimal noise disturbance.
While this isn't the most important feature to think about when looking for a massage chair for back pain, it's going to matter more for some people than others.
7. Assembling and Ease of Setting Up
Setting up your massage chair isn't going to be too difficult if you find it easy to follow the instructions. Additionally, you can opt for hands-on delivery which could end up saving you time and energy.
In saying this, there are some massage chair for back pain models out there that are remarkably easy to set up and won't require anyone else to help you. Some are even sold already assembled – however, it's important to check if these types are going to fit through the doorway before you purchase them.
8. L-Track vs. S-Track
All of the massage rollers that are included in your standard massage chair are connected to a rail located in the back of the chair. This is referred to as the 'track.'
Because your spine can be compared to the letter's' shape, an S-track is made to complement the natural curvature of your spine, which in turn allows the chair to work along the length of your spine.
If you've got an L-track chair, however, it's going to be longer than an S-track. This feature can alternatively give you a much longer massage all the way down to your glutes.
If you are tall and have issues with your glute muscles, then you may want to consider investing in an L-track massage chair. There's usually a difference of about 20 inches between S-track and L-track massage chairs, so this is certainly something to keep in mind.
9. 4D, 3D, and 2D Rollers
The first ever massage rollers on the market were 2D, and these models could only move up and down and then left to right. Then the 3D rollers were introduced by a Japanese manufacturer, and these rollers can move back and forward as well so that you get additional applied pressure where you need it.
As you can see, 3D rollers are more effective than 2D models. While an airbag or air cell massage is great for pressure, 3D rollers are more effective. If you're looking at a chair for pressure therapy, then you'll want to find one that includes 3D rollers.
If you're really serious about pressure, then you may want to consider a massage chair with 4D rollers. 4D rollers allow you to control the speed of the pressure, which could just be considered a marketing gimmick.
At the end of the day, it's up to you. 3D rollers are going to do a great job of applying the right amount of pressure, but if you like to be in control and like the idea of being able to adjust the speed of the pressure, then you may want to consider the 4D roller option.
10. Warranty and Budget
When looking at the chairs on the higher end of the price scale, there's another thing you're going to want to make sure of – the warranty. There's no point spending all that money on a massage chair if its warranty expires in a couple of years. With this type of warranty, you risk things going wrong after it expires, which could end up leaving you even more out of pocket.
The best type of massage chair is the kind that doesn't cost too much and has a good warranty. There's nothing wrong with investing in a higher-end model that costs you a bit more initially if it has a good warranty – because the risk of something happening further down the track is low.
While considering the price is essential, we think that considering the warranty is even more so. It's tempting to opt for a much more affordable option at the end of the day – but if it has a warranty that's too short, it's just not going to be worth it in the long run.
Final Thoughts
Finding the perfect massage chair for back pain relief can be overwhelming.
A lot of the time, people end up settling for a lot less while paying for a lot more, mainly because they don't know enough about what they're purchasing.
It's important that you have a clear idea of what you're looking for in a massage chair. Once you know what you need it for, you'll be able to decide on the right model for you a lot easier.
Don't forget to consider the price vs. the warranty – you never want to opt for something more affordable if it doesn't have a long enough warranty.
With our comprehensive list of what we consider to be the best massage chairs for back pain, you'll be well on your way to figuring out which one is going to be the best for your needs.
The following two tabs change content below.
Thank you for your interest in Geek Health Journal. My name is Anne. Feel free to comment on any article and I will help if I can.
Latest posts by Anne Keiley (see all)